The AX5 3-in-1 Perfect TriplePAR is optimized for a quick return of investment. This stage lighting fixture replaces your wireless and wired PARs as well as battery uplights. It is the ultimate tool for entertainment professionals.

Optical
Colours: RGBAW Philips Lumileds
CRI: 92
Total LED power: 45W
Luminous Flux: 1080Lm
Emittance (@2m): 4800Lx
Strobe: 0-25Hz
Beam Angle: 13 ˚
Pixels: 1
Control
Wireless Modules: 865-870MHz | 902-928MHz | 2.4GHz
Range: 300m | 330 Yards
Wired DMX: supported via 5-pin XLR in and out sockets
Wireless DMX: CRMX & others (excluding W-DMX G5, City Theatrical)
Electrical
Battery: LG Chem Lithium-ion
Battery Lifetime: 70% after 300 cycles
Battery Runtime: Up to 20 hours
LED Lifetime: 50.000 Hours
Charging time (nominal): 7 Hours
Input Voltage (charger): 90-260V 50-60Hz
Construction
Housing: Aluminium
IP Rating: IP65
Relative humidity: 0-100%
Operating Temperature: 0-40 ˚C | 32-104 ˚F
Weight: 3.40kg |7.5Lbs
Dimensions: 145 x 190 x 221 (mm) | 5.7 x 7.5 x 8.7 (inches)
A smart lighting control system where Infrared remote, wireless DMX and app work together to enable big setups on stage & events that can be set up, monitored and adjusted in a fast and convenient way.
Control Fixtures
Create complex programs out of colors, effects and settings. The fixtures will remember and repeat these effects without requiring a constant wireless link. Quickly create groups of lights, assign positions and select which fixtures should receive commands.
Monitor Lights
Keep a complete overview over the status and all settings of your fixtures while you operate them.
View battery status, radio signal, DMX address and which stage lights or fixture you have targeted.
Diagnose individual fixtures and even get informed if one is being moved or switched off.
This works while you control lights by the app but also if lights are controlled via DMX.
Set-Up Faster
Set up your entertainment fixtures conveniently out of the distance.
Set DMX address and DMX footprint for one or several fixtures; over 50 units can be prepared in less than 5 minutes out of a distance.
After your job, do a quick master reset of all settings or a partial one of only selected settings.
LumenRadio
The AsteraBox works as a wireless DMX transmitter; just connect it with the included XLR adapter to your DMX console and you can transmit 1 DMX universe with CRMX technology, the most stable Wireless DMX protocol available in the Stage Lighting and entertainment industry.
Full Compatibility
Astera fixtures can be controlled by LumenRadio CRMX transmitters and also by W-DMX from wireless solutions (up to G4S).
These Battery Operated Fixtures support both wireless DMX standards so you can use them together with almost all other wireless fixtures and transmitters.
Simple commands like ON/OFF, colors, preloaded effects etc can be sent with our infrared remote control directly to the fixtures.
When programming lights with the AsteraApp, the IR remote can be used for confirming settings on individual entertainment fixtures.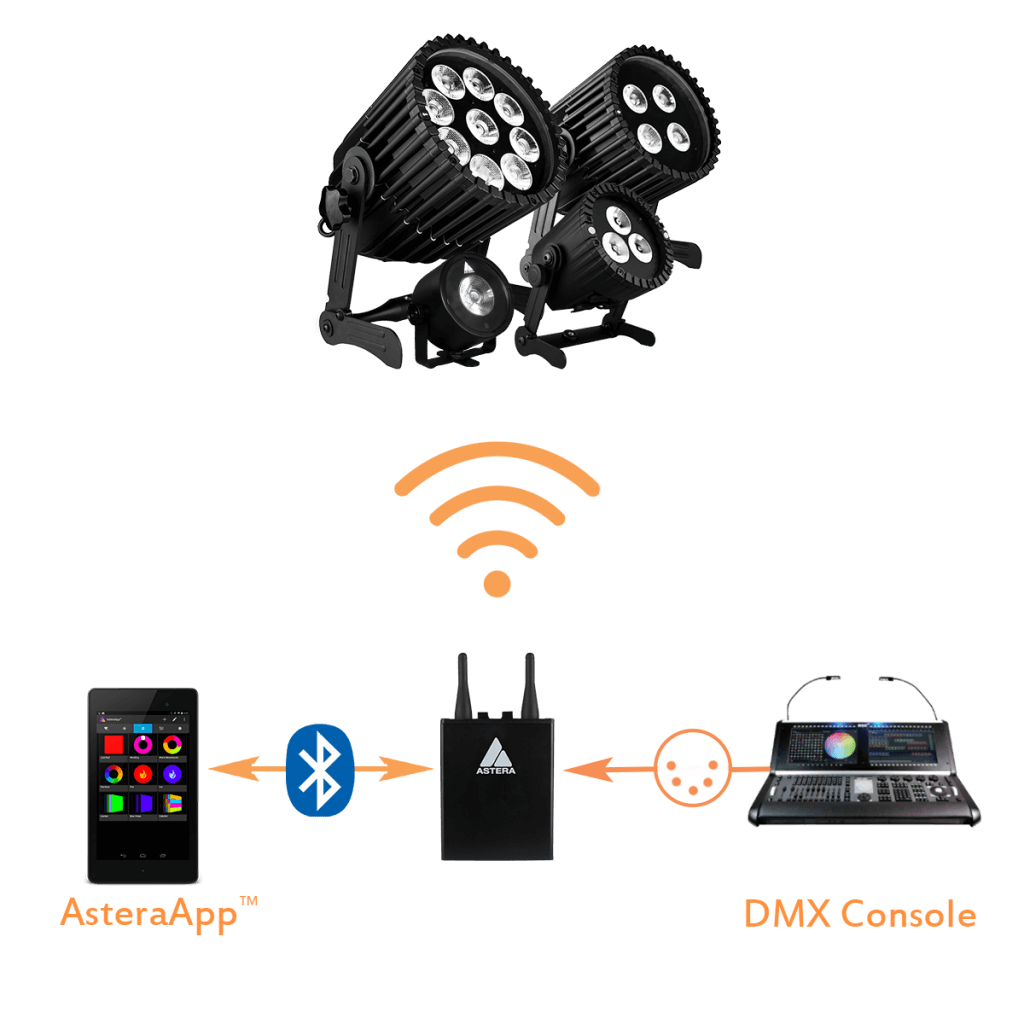 Talkback+
Detect all available lights, set them up, check their status, configure DMX addresses and DMX profiles.

Seamless Runtime
Set the length of your event and be sure that your lights won't run out while still getting the maximum brightness.

TruColor Calibration
100% colour consistency through any batch. It can hit exact colour temperatures and reproduce standard filter gels.

Filming Tools
Adjustable PWM frequency to avoid flickering, green/purple balance to minimize post-production work.

Anti-theft
The lights give visual and audible alarm and send notification to the AsteraApp if they are being moved during an event.

DJ Feature
Auto BPM analyzes the beat and matches programs to it, flash buttons can trigger special effects while being held down.

Scheduled Stand-By
Switch lights into power-saving standby and schedule them to wake up when the event starts.

Dynamic Power-Boost
The dynamic power-boost feature enables the light to display the maximum brightness at all times and intensify non-white colors.

Emergency Light
Switches automatically to white light and runs of its battery when AC power is cut off.